I heard about fupei about a year ago. One of the article in jakarta.wartaegov.com said that fupei is network social forum made in Indonesia. It makes me proudly to hear that. Indonesia has a social network like Friendster or Facebook. So you all Indonesian, let's support Fupei. hehe Sorry I act too much.
Anyway I try to follow the fupei by registering to be a member. But forgive my stupidity I could not find any record who build the website. I find it out in jakarta.wartaegov and someone name Sanny Ghaddafi is the owner and the creator. Fupei is Friends Unity Program Especially Indonesia. Nice short of. Do you think it a lack of the web? I think so. But all the necessary law of agreement and else are enough for us readers.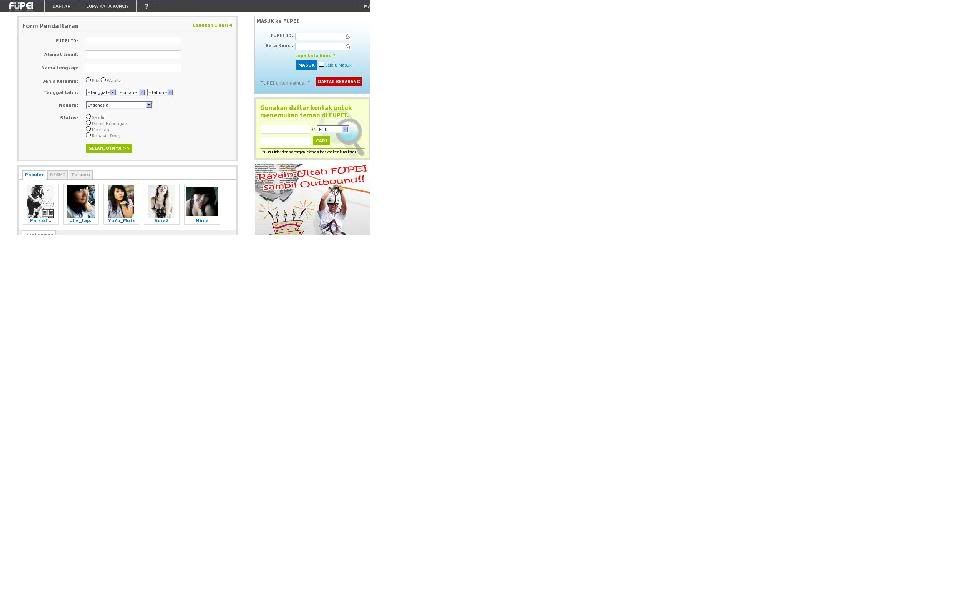 There are lots of interesting feature fupei gives us. From add friends to our network, messege board that we can read and post a comment, chatroom, download upload photo/music/ video. And it has blogs area that every member can use it as their blog site. Provide a promotion link through the blog or commercial space. And under applications menu, you will see games. Something that remind us to facebook, isn't it. You will find lots of games right there.
And you can have fupei in two major language, English and Indonesia. Indonesia has a vary language fupei provide. Like Betawi, Jawa, Sunda, Minang, and Cawa Lappung. Lappung is Lampung, a province in Sumatra.
I have a very difficulties using the navigation menu in fupei with my mouse. I m using Firefox 3.10, slackware as my OS, Pentium IV, Speedy internet connection, standar usb mouse. But when the mouse pointing to one of the scroll down menu, the menu will go off fast. It very difficult to appoint my mouse to it. Does anyone have this difficulties also?
For overall content, everything looks familiar if you already use friendster or facebook. But the fupei still promising to grow up and develop to higher rank. So if you are Indonesian you should be Fupeis.