What kind of language do you think when reading reviewmu.com? It crossed my mind when I suddenly have a wild idea about it. I think it's English-Indonesian. Since the website is Indonesian web/ product review. It will be mean YourReview in complete English. But for Indonesian this is unique name for a website.
The front look is quite easy to determine. Whether you are a blogger or an advertiser. Because I m a blogger, I click on it to register. The register process is quite easy and clear. So let's skill this one. Take a look inside the menu. For blogger like me there are five menus at the top and lots of menu at the left bar. The left bar menus are quite helpful, so when we receive some job for reviewing some website, we can easily look at the bar menu. There's a notification how many job/ order need to approve or denied.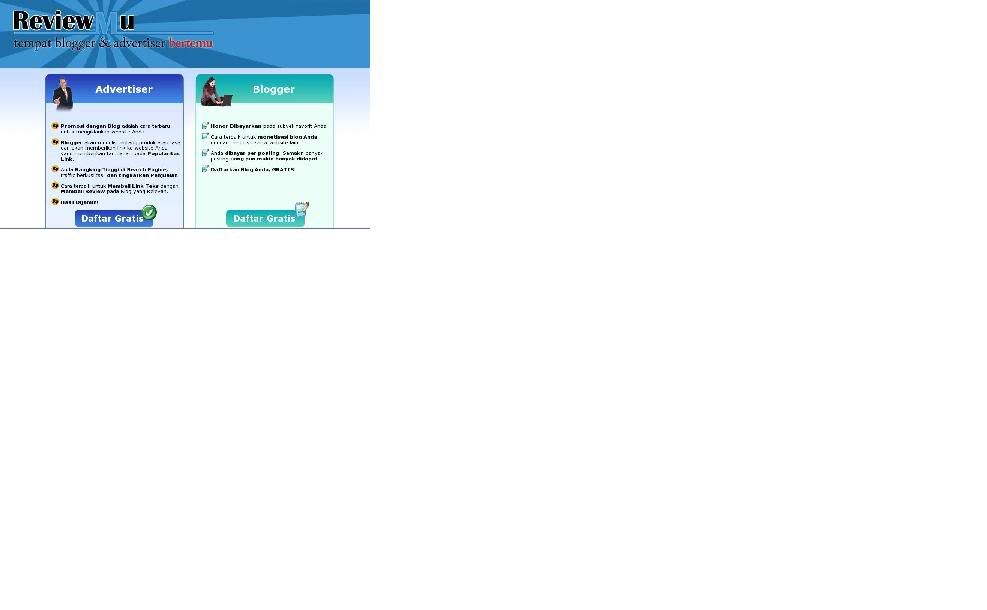 At the center there are lots of boxes indicating the owner still open for advertiser to advertise their commercial for review. But unfortunately until today I checked (May 12th,2009) the menu of Kirim/Mengatur Blog saya or Send/ Arrange my blog is under maintenance. It's been like this for a week. I don't know if the owner has a major problem maintaining it. So I have not had a chance to put my blog address so the advertiser could look to it and offer me some job. I hope it will finish soon.
One thing relieving is there is a menu for FAQ or Daftar pertanyaan. So we can find out what to do after signing in. The explanation is quite loud and clear. Of course in Indonesian Language cos this is one of the Indonesian web site review. And I think this web is a good start for Indonesian blogger to review Indonesian site in the Indonesian web review. A complete nationality isn't it? Start it out.