About Drupal
Drupal is a free software package that allows an individual, a community of users, or an enterprise to easily publish, manage and organize a wide variety of content on a website. Hundreds of thousands of people and organizations are using Drupal to power an endless variety of web sites, including
* Community web portals
* Discussion sites
* Corporate web sites
* Intranet applications
* Personal web sites or blogs
* Aficionado sites
* E-commerce applications
* Resource directories
* Social Networking sites
The built-in functionality, combined with thousands of freely available add-on modules, enables features such as:
* Electronic commerce
* Blogs
* Collaborative authoring environments
* Forums
* Peer-to-peer networking
* Newsletters
* Podcasting
* Picture galleries
* File uploads and download
and much more
Drupal is open-source software distributed under the GPL ("GNU General Public License") and is maintained and developed by a community of thousands of users and developers. If you like what Drupal promises for you, please work with us to expand and refine Drupal to suit your specific needs.
source : http://drupal.org/about
In my opinion, I never heard about drupal before. But hey, I am open minded person so I would like to try new thing beside wordpress and joomla. I usually use wordpress. It is quite easy to use for newbie like me. I have not had a chance to customize joomla even I already installed it once.
After downloading the Drupal in drupal.org I put it in my root folder of my website. And then read the install.txt file. And follow some instruction there. Well I admit it is quite easy to be followed. But I have some misunderstanding in writing the settings.php file.
The instruction wants me to copy .sites/default/default.settings.php to .sites/default/settings.php
But then we have to change what inside the settings.php. It is the same with wordpress settings wp-config.php. There are some point that we need to understand when filling the settings.php of Drupal.
First this line :
$db_url = 'mysql://username:password@localhost/databasename';
and change this line into your related database. Of course you need to create it using mysql database that usually installed in every website host.
Example:
$db_url = 'mysql://noemet:noemet@localhost/mydatabase';
And this line :
# $base_url = 'http://www.example.com';
I change the last line because the drupal installation is not working.
So I filled the line with this :
# $base_url = 'http://www.sugi.com/pernikahan';
The I run in some browser:
http://noemet.com/drupal/install.php
Although I checked the settings.php again, the last line is gone. One more thing important is the permission of settings.php that has to be a+w or 655. If you're using cpanel you will be easy to do that.
Then the installation begin. Your website will be look like this.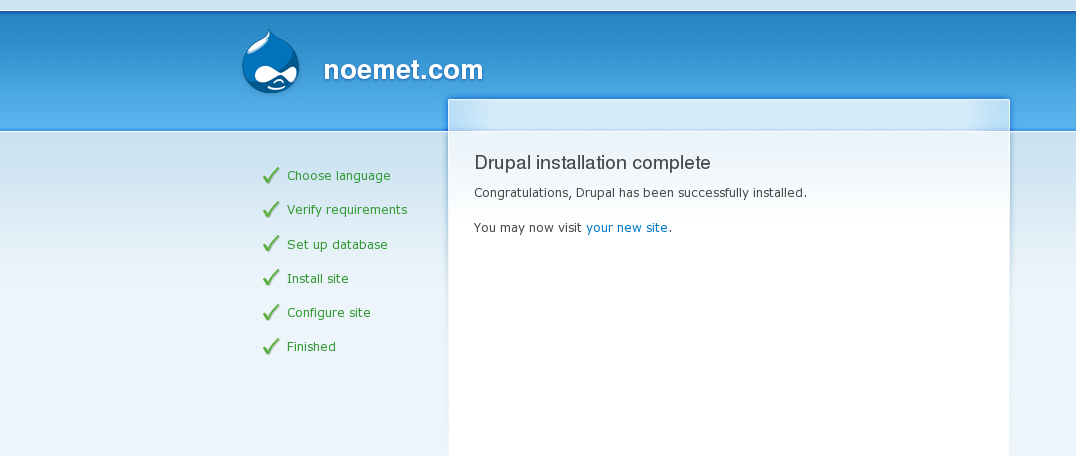 Finally it is over. Your website is ready to be set.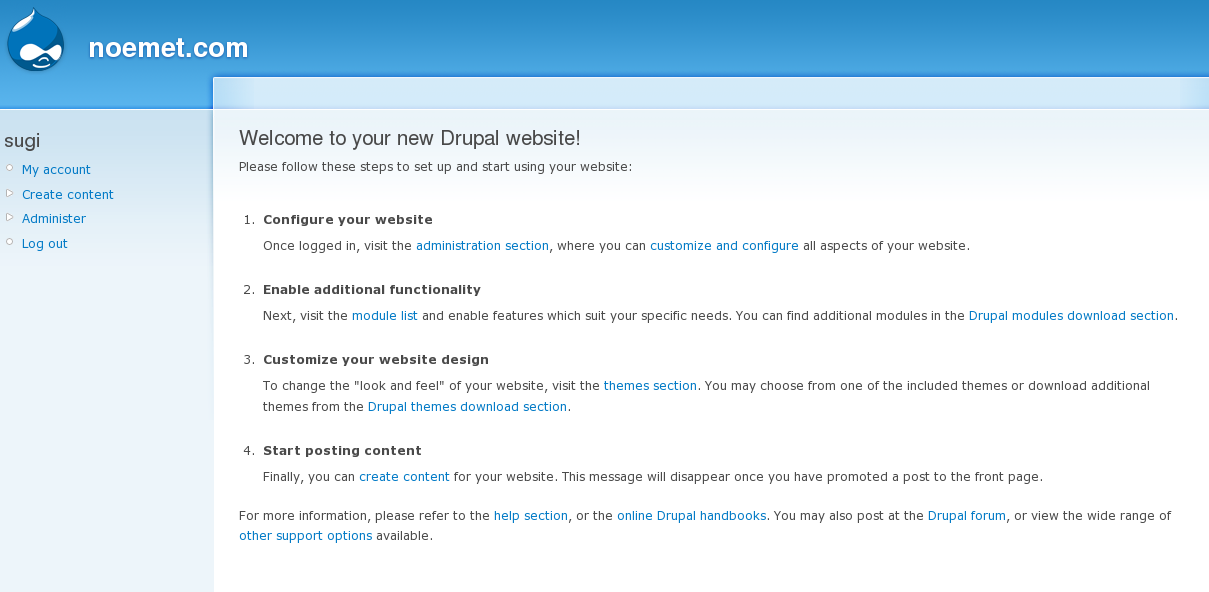 Lot's of thing to learn now. I will write more about the drupal administrating later.